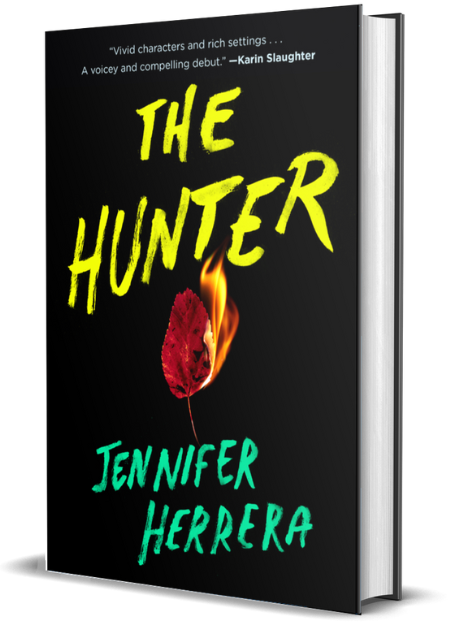 The Hunter
Published: 1/10/2023
---
"Vivid characters and rich settings . . A voicey and compelling debut."
— Karin Slaughter
---

A riveting atmospheric suspense debut that explores the dark side of a small town and asks: How can we uncover the truth when we keep lying to ourselves?
After reckless behavior costs NYPD detective Leigh O'Donnell her job and her marriage, she returns with her four-year-old daughter to her beautiful hometown of Copper Falls, Ohio. Leigh had stayed away for more than a decade—even though her brother and a trio of loving uncles still call it home—because, while the town may seem idyllic, something rotten lies at its core.
Three men in town have drowned in what Leigh suspects to be a triple homicide. She hopes that by finding out who killed them, she just might get her life back on course. Headstrong and intuitive, Leigh isn't afraid to face a killer, but she has to do more than that to discover the truth about what happened to those men. She must unravel a web of secrets going back generations, and, in doing so, plumb the darkness within herself.
Both a taut mystery and a deeply affecting examination of the lies we build our lives upon, The Hunter is a haunting look at how the search for truth often leads us back to the most unlikely of places.
Praise for The Hunter
"[A] complex plot, which is matched by thoroughly realized characters whose actions are anything but predictable. Herrera is a writer to watch."— Publishers Weekly (starred review)
"A thriller with depth."— Booklist
"The Hunter announces Jennifer Herrera as a remarkable new voice in suspense. Her debut is expertly paced and plotted, richly atmospheric, and filled with nuanced, beautifully developed characters with whom readers are sure to connect. I loved this book, and can't wait to read whatever Herrera writes next."
— Cristina Alger, New York Times bestselling author of Girls Like Us
"Smart, taut, and atmospheric. The Hunter had me reading into the night as I followed Leigh from New York back to her hometown. She must find and confront a killer as well as make peace with her past. I finished the book in one sitting!"
— Janet Skeslien Charles, New York Times bestselling author of The Paris Library
"This book is a bonfire on a dark night. Searing hot and enthralling. I want to live in Herrera's language, where the ordinary becomes magical and strange. Fans of Tana French and Marisha Pessl, take note."
— Melissa Larsen, author of Shutter
"Herrera has a gift for drawing vivid characters and rich settings. A voicey and compelling debut that is not to be missed!"
— Karin Slaughter, New York Times bestselling author of Girl, Forgotten
Order "The Hunter"
About Jennifer Herrera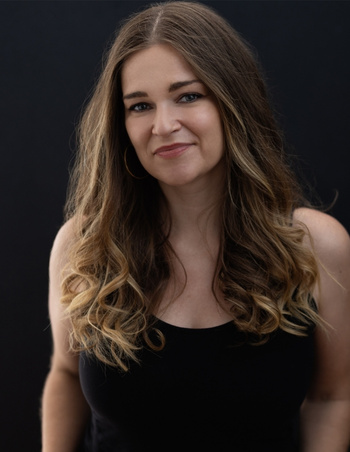 Jennifer Herrera is a former philosophy grad student turned literary agent, who is fascinated by the stories we tell ourselves to live and the lies we cling to that sabotage our chances at a good life. She grew up in northwest Ohio and now resides in Philadelphia with her family.
Photo ©Aliza Schlabach 2022.
View Jennifer Herrera's Press Kit.